There's no one more fed up with riffs on the Star Wars universe than I am, but when you see something as gorgeous and imaginative as these Star Wars steampunk action figures you just have to talk about them. Even if you just did another Star Wars thing just yesterday…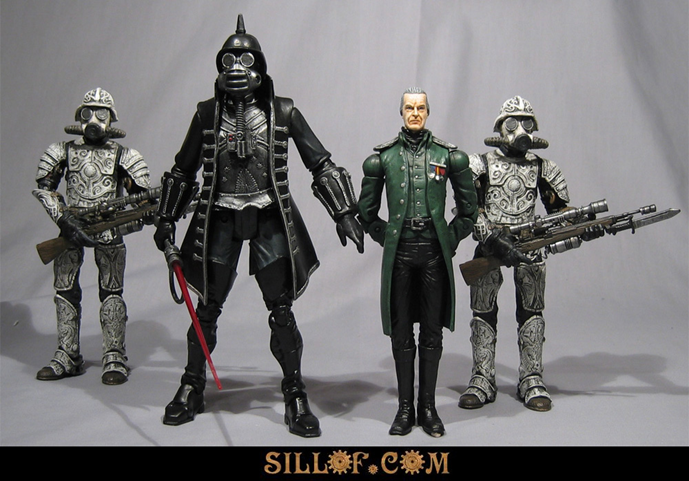 For me, there was a moment of shock when I realized that action figures are this guy's art form. These aren't copied from someone else's images, they are totally original creations. That kind of blows my mind…
This snippet from his description of the Vader figure clearly shows the thought that goes into these (if it wasn't obvious from the images themselves).
I stripped away the samurai influence on Vader. To capture that European feel I used title "Lord Vader", as Tarkin calls him, as the inspiration. My imperials are meant to have that Eastern European/German feel that the film version had somewhat. Vader's flared out helmet is no longer a samurai look but now a more Prussian spiked helmet. His fierce angular face mask that helped with his breathing is now a modified gas mask. The patina chest armor is a homage to his classic shinny black armor. The clunky lightsaber is connected to a power pack via the tube.
He also applied the same victorian stylings to The Justice League and The Avengers.
Next time no more Star Wars, I promise.
Found via Brass Goggles.